Utah Clean Air Milestone
For over a decade, the 1-15 corridor through Utah has struggled to attain EPA clean air levels, but is taking a turn in the right direction. Greg Sopkin, the EPA administrator over Utah's region, made the congratulatory announcement on Tuesday. He announced that the Provo (Utah County) and Salt Lake City area (which includes portions of Weber, Box Elder, Davis, and Tooele counties) have met standards of attainment.
A Step In The Right Direction
"It's a great day for air quality along the Wasatch Front," Sopkin said. The EPA has worked with the Utah Department of Environmental Quality for the last 10 years to help Utah lower particulate matter air pollution levels (both PM 2.5 and PM 10).
• Click here to learn more about the difference between PM 2.5 and PM 10 air pollution.
There are many different ways large and fine particulates enter our atmosphere, and it will take a concerted and continual effort to keep Utah's air clean well into the future.
The winter months are the hardest on air quality for many reasons: increased use of combustible heating sources, cold air caps trapping vehicle emissions, and the use of non-soluble aggregates on the road. Using sand and gravel on road surfaces kicks up a lot of particulate matter pollution into the air. And since they don't dissolve into brine, they continue to release particulate matter as long as they remain on the road.
Ice Slicer's Commitment to Environmental Responsibility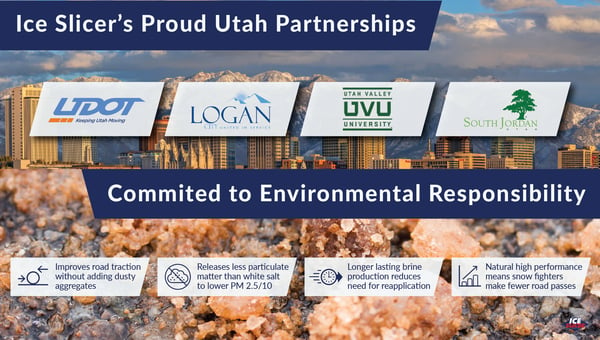 Ice Slicer is proud to offer environmentally responsible deicing solutions for areas that struggle with both PM 10 and PM 2.5 pollution levels. Our partnership with the Utah Department of Transportation provides our roadways with natural deicing power mined from right here in Utah. Over the last decade we have also partnered with additional Utah cities/organizations such as The City of Logan, The City of South Jordan, and Utah Valley University.
Our ideal blend of granule sizes provides stabilizing traction on paved surfaces without adding dusty aggregates, like sand and gravel, that disperse particulate matter into the air. Ice Slicer also releases fewer particulates into the air than white salt. In addition, our fast acting and long lasting brine production reduces the need for reapplication. That means snow fighters make fewer passes at the road and lower their emissions into our atmosphere.
Congratulations again Utah, and we look forward to many more winters of clearing your roads and helping to keep your air cleaner!
© 2021 Redmond Minerals Inc.