True Cost of Winter Maintenance
As part of winter road maintenance, agencies, cities, and towns employ a myriad of solutions customized to their local snow and ice control needs and funding, staffing, and equipment constraints. Anti-icing, deicing, sanding, snowplowing, and snow fencing are all strategies used to keep residents and travelers mobile in the winter.
On average, state DOTs expend roughly 20% of their budgets on winter maintenance, with a direct cost of $2.3 billion and an indirect (infrastructure and environmental) cost of $5 billion annually. Typically, the strategies employed by agencies come with tradeoffs. The costs include resources expended by the agency, corrosion, and potential environmental impacts. Benefits or payoffs for efficient road maintenance can include economic impacts to society and increased safety and mobility for travelers.
Direct Costs

of Winter Road Maintenance
Direct costs are costs directly tied to the production of a specific service—what it takes to make it happen.
Equipment

:

Plows

and trucks—today many of these are equipped with

state-of-the-art

technology

such as

GPS systems

;

computer-controlled spray bars

;

and monitors providing real-time readings

of the route, road temperature, truck speed, and rate of application

.



Labor

:

Plows and trucks do not load or drive themselves. Whether performing anti-icing strategies ahead of storms, or tackling the roads once a storm has begun, winter maintenance operations are very labor intensive and require qualified and informed individuals

for successful execution

.



Fuel

:

Depending on the storm and the road conditions,

snowplows

can be on the road for up to sixteen straight hours. Filling up, blading, idling, plowing, and idling some more all consume fuel. Depending on the make and model of the plow, drivers will get anywhere from 2-15 mpg.

In Utah there

are

103,00+ lane miles to take care of

.

Click here

to see

lane mile statistics for all states.

Those lane miles require a lot of fuel

when storms hit.



Product (Deicing Material)

:

Brines, salts,

abrasives, corrosion inhibitors, added chlorides, and treated or chemically enhanced solid chemicals

are all deicing product options.



Clean Up

:

Cleaning equipment is essential to keep it operating properly. In addition to clean equipment,

some areas must clean up leftover deicing products. Sand and aggregates

do not dissolve

, and, after several cycles of storms and plowing, can build up on

roadways.



Indirect Costs

of Winter Road Maintenance
Infrastructure

:

Over time, m

any popular deicing products

can cause damage to vehicles, bridges,

bui

ldings

and the environment. It is important to understand

your products

and procedures

and how they will affect surrounding areas.



Corrosion

:

The gradual destruction of materials is an unfortunate byproduct

of deicing.

If left unchecked, corrosion can create dangerous conditions within key truck components, such as the electrical system. But preventive maintenance can help stop rust before it becomes unwieldy and eats away components past the point of repair.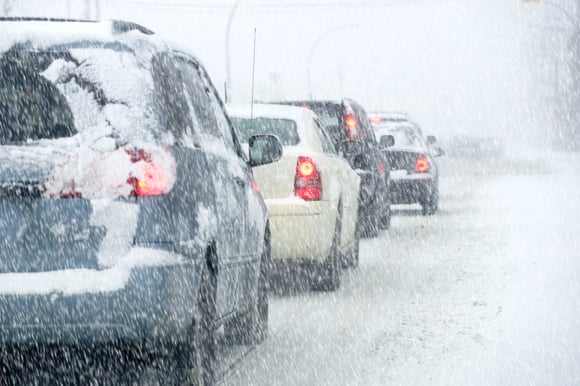 Almost half a million car accidents each year are due to winter storms, wet road conditions, and general bad weather. 

Each year, an average of 1,836 deaths and 136,309 injuries are attributed to conditions on icy and snowy roads.

Icy road fatalities account for more deaths than all other weather hazards combined (3.6 times more). 

Almost half a million car accidents each year are due to winter storms, wet road conditions, and general bad weather. 

Heavy rain, thick fog, or consistent snow can reduce driver visibility almost instantaneously. Heavy snow specifically can slow traffic speeds more than 60% of their regular speed limit. 

74% of all weather-related car accidents are due to wet roads. Of this percentage, sleet and snow cause 13%, while only 3% are related to 

foggy conditions

.

These statistics are taken from USDOT, FHWA, NHTSA, and the Auto Insurance Center.
Disruption of

L

ives and

E

conom

ies

:

In 1999 it was estimated that approximate

ly

$1.4 billion dollars would be lost in wages alone if all of the snowbelt states

had to stop

for just one day due to a winter weather event. Since then

, that number is

closer to $2.6 billion

according to

HIS

Global Insight

(17).

A study of economic forecasts for

the state of

Kansas estimated

that for an average weekday in February

, the Interstate and State highway system caries $175 million in goods and accounts for $30 million in daily wages

(Kansas DOT, 2013).



The economic impact of snow-related road closures far exceeds the cost of timely snow removal and regular maintenance. Investing upfront, although it may seem costly, protects the long-term benefit of smooth economic function.
Total Cost of Deicing

and Ice Slicer
Some people think that Ice Slicer is a more expensive product, but when the total cost of maintaining winter roads and managing storms is considered, Ice Slicer is actually a more efficient and economical product.
With Ice Slicer You Experience:
More Traction

(Eliminating additional aggregates

and unnec

essary cleanup

)

Less Bounce & Scatter

(Creating better lane coverage)

Fewer Treatment Cycles

(

Using

less product

to get the job done

)

Less Corrosion

(

In turn protecting vehicles and roads)

Faster Melting & Longer Lasting

(

Unsurpassed

all-around performance)



Because of Ice Slicer's superior performance, your total cost per storm will drop significantly.
© 2021 Redmond Minerals Inc.